Carolina Digital Photo Group - Equipment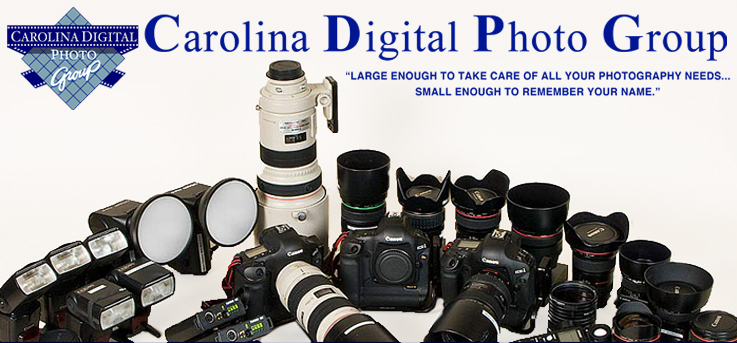 In photography there are a thousand and one different ways to get amazing photos. Half of it is having a good eye and the other half is having good equipment. While we can't teach you how to take the photos, we can teach you about the different equipment, which is half the battle. Our hope is to bring more understanding on what goes into professional photography and how it vastly differs from amateur photography. Below we have listed all of the different cameras and lenses we use here at Carolina Digital Photo Group, as well as how we use them to bring you our award winning photography!
Canon 50D
Canon's new EOS 50D bridges the gap between the novice and the seasoned pro with a perfect combination of high-speed and quality. It features an APS-C sized 15.1-megapixel CMOS sensor for tremendous images, new DIGIC 4 Image Processor for fine detail and superior color reproduction, and improved ISO capabilities up to 12800 for uncompromised shooting even in the dimmest situations. It features a refined 3.0-inch Clear View LCD (920,000 dots) monitor, supercharged Live View Function with Face Detection Live mode, plus a number of new automatic Image Correction settings and HDMI output for viewing images on an HDTV. Pick up the EOS 50D and you'll experience true digital inspiration.
Nikon D3X
Extreme-resolution photography once meant a sacrifice in mobility, versatility and spontaneity. Now, the Nikon D3x builds upon the world-renowned D3, merging 24.5 megapixels of imaging performance with the speed and handling characteristics that today's photography demands: exquisite detail and tonal range in an ergonomically superior digital SLR body with comprehensive protection against dust, moisture and electromagnetic interference. Work within ISO 100 and ISO 1600 for spectacularly clean and sharp images, even in harsh conditions. The D3x's intuitive layout makes it easier to respond instantly to rapidly changing situations. With Nikon's Total Imaging System on their side, demanding photographers can better realize their vision, using the comprehensive range of renowned NIKKOR lenses and the incomparable Creative Lighting System to adapt to any assignment or shooting situation. That's creative freedom. With the D3x, the world is your studio.
Canon Wide Angle 10-22mm f/3.5-4.5
With its effective focal length range of approximately 16-35mm in 35mm format, the EF-S 10-22mm f/3.5-4.5 USM is a remarkable lens with outstanding image quality that will take your photography into new dimensions and areas of dramatic expression. The super-wide zoom not only gives you the freedom to get exactly what you want in the shot, it dramatically alters perspective to allow for dynamic expression. The lens allows you to get extremely close to subjects, exaggerating the difference in size between a near object and its background. Creative photographers can use this phenomenon to create excellent separation between subject and background for a strong sense of presence, or for a pan-focus effect with everything from foreground to background sharply in focus.
Canon EF Telephoto 200mm 2.8
The Canon EF 200mm f/2.8 L II USM lens uses a rear-focus telephoto optical design with two ultralow-dispersion (UD) glass elements to ensure maximum image sharpness and accurate color fidelity. The two UD glass elements, combined with the rear focusing, correct aberrations to give you extremely sharp and clear images.This lens is perfectly suited for Canon's EOS system cameras--placing special emphasis on its manual focusing capability--which have a wide rubber focusing ring that allows you to make easy adjustments. The ultrasonic motor (USM) and rear focusing design allow for silent, high-speed autofocus and full-time manual focus. Because of its full compatibility with 1.4x and 2x EF extenders, you have the option of added focusing versatility.
Canon EF Telephoto 300mm f/2.8
The Canon EF 300 mm f/2.8 IS II USM super telephoto lens is lightweight and yet offers faster operation, improved image stabilization and superior optics. Incorporating Fluorite elements for improved image quality and reduced chromatic aberration plus a number of advanced coatings to minimize ghosting, flaring, and with a Fluorine coating that keeps soiling, smears and fingerprints to a minimum, the EF 300 mm f/2.8 IS II USM is ready to deliver spectacular images in an instant. With an image stabilization mode that activates IS only when the shutter button is fully pressed, and giving the equivalent effect of a shutter speed four stops faster, the EF 300 mm f/2.8 IS II USM allows for easy panning and is ideally positioned for professional action photography. The EF 300 mm f/2.8 IS II USM also features a security slot for wire-type security locks
Canon 28-135mm f/3.5-5.6
Canon offers a high-magnification standard zoom lens with 5X zoom ratio, ranging from wide-angle of 28mm to medium-telephoto of 135mm. This lens features a built-in compact Image Stabilizer (IS) unit, which is newly developed for this lens. This compact IS unit and a compact optical system with multi-lens-group zoom design achieves compact and lightweight design of high-magnification zoom lens. The IS system is the same as other IS lenses. The image stabilizing effect is equivalent to about two steps of shutter speed. The optical system uses a molded glass (GMo) aspherical lens element (14th) to provide sharp definition throughout the entire zoom range. A ring USM (Ultrasonic Motor) and inner focusing system assures silent and high-speed AF and full-time manual focusing.
Canon 50mm f/1.2
The EF 50mm f/1.2L USM is a peerless new standard lens featuring an ultra-large aperture for a narrow depth of field and soft background blur so loved by photographers everywhere. The EF 50mm f/1.2L USM is suitable for any shooting situation; its lens coating and construction are optimized to minimize the ghosting and flare that frequently occurs when lenses are used with digital cameras. This high-performance, weather-resistant lens delivers all the superb image resolution and contrast you expect in a Canon L Series Lens.
Canon EF 24-70mm f/2.8
A standard focal length zoom lens, it features a large aperture throughout its focal length. Featuring the latest advances in optical lens design, it utilizes 1 Super UD lens element and 2 UD lens elements that help minimize chromatic aberration in the periphery at wide-angle as well as reduced color blurring around the edges of the subject. In addition, 2 types of aspherical lenses are combined to help reduce spherical aberration over the entire image area as well as through the full zoom range. Optimized lens coatings also help ensure exceptional color balance while minimizing ghosting. The lens is also equipped with a circular 9-blade diaphragm for beautiful, soft backgrounds. A ring-type USM and high-speed CPU with optimized AF algorithms enable silent and fast autofocusing. Built for the rigors of professional use as well as to meet the increased number of shots available with digital photography, it's constructed with improved dust sealing and water resistance while fluorine coatings on the front and rear lens surfaces help reduce soiling, smears and fingerprints.
Nikon 24-70mm f/2.8
The 28-70mm f/2.8 ED-IF AF-S Zoom-Nikkor is an ideal mid-range zoom lens for architecture and portraiture. Fast maximum aperture allows for shooting in low light. ED glass element reduces chromatic aberrations providing superior optical performance - even at maximum. It features M/A switch for fast transitions from AF to manual focus. No power drain when manually focusing.